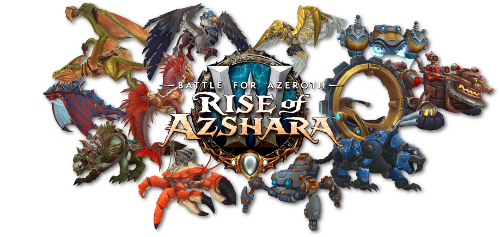 Patch 8.2: Rise of Azshara mounts
Patch 8.2: Rise of Azshara introduces to new zones: Nazjatar - realm of Queen Azshara, and Mechagon - the home of the tech-crazed mechagnomes. As you might expect, many of the new mounts you can earn have either mechanical or aquatic themes. In addition, Patch 8.2 opens up flying in BfA zones, for those who complete Battle for Azeroth Pathfinder, Part Two. It also introduces a new mount equipment feature, which allows you to pick an enhancement for your mounts, such water walking, daze prevention or speed increase, while removing inherent water-walking from waterstriders.
New Features
Battle for Azeroth Flying!
In 8.2 we'll finally be able to soar through the skies of Zandalar and Kul Tiras (and the new zones)! This won't be granted immediately, however - you'll have to work to unlock it by completing Battle for Azeroth Pathfinder, Part Two. If you've already completed Part One of this achievement then all you need to do is fully explore Nazjatar and Mechagon, and reach Revered with their new factions (one for each zone). This shouldn't be difficult, but it will take a little while.
Mount Equipment
Mount Equipment is an important addition to the way we use our mounts. Essentially, it's a single slot in your mount journal, to which you can add one enhancement for all your mounts, such as water-walking, daze-prevention and a safety parachute (for when you get dismounted while flying). To unlock this system you must have reached level 100 on at least one character on your account, but once unlocked the system can be used by all characters of level 20 and above.
Because of this, all water striders will lose their innate water-walking ability but if you're already Exalted with The Anglers at the start of 8.2 you'll receive a free Anglers' Water Striders in the mail, so you can slot it and benefit from water-walking on all your mounts straight away.
New Mounts
Loot - Dungeon Boss Drops
Two mechanical mounts - one aerial and one ground - have a chance of dropping from specific bosses in the new dungeon, Operation: Mechagon.
Loot - Random World or Zone Drops
It appears that these mounts will be rare drops from random NPCs in the two new zones: a mechanocrawler in Mechagon and a snapdragon in Nazjatar.
Loot - World Boss or Rare Drops
The fantastical Junkheap Drifter and Silent Glider drop from specific NPCs in Mechagon and Nazjatar, respectively. The third mount, Fabious, is listed as dropping from an NPC of the same name but we're yet to find any sign of him in the database, so he's either well hidden or not yet implemented.
Possibly Fabious NPC in Nazjatar
Non-Player Factions
The existing BfA zone factions each offer a new flying mount - for 90,000 gold. In addition, one new Mechagon faction and two new Nazjatar factions (one Alliance, one Horde) offer flying mounts for gold and manapearls, respectively.
Player vs Player - Battle for Nazjatar
This swarthy hippocampus can be purchased with 150 Nazjatar Battle Commendations. These are earned by participating in the Battle for Nazjatar PvP event. A win awards you 5 Battle Commendations and a loss awards you 1.
150 Nazjatar Battle Commendations
Achievements - Quest Story Progression
The fabulous Wonderwing 2.0 is the reward for completing Battle for Azeroth Pathfinder, Part Two, which also unlocks BfA flying. The Snapback Scuttler (a crab that moves sideways!) and Mechacycle Model W are rewards for completing a suite of exploration and participation achievements in Nazjatar and Mechagon, respectively.
Achievements - Raid Meta-Achievements
This stunning fathom ray mount is the reward for completing the meta-achievement for The Eternal Palace raid.
Quests & Exploration - Mount Quest Chains
The Child of Torcali is the reward for completing a quest chain that was introduced at expansion launch but reaches its conclusion in Patch 8.2! The Scrapforged Mechaspider is a mount you can create as part of a quest chain in Mechagon. The sources of the two snapdragon mounts are still uncertain - the quests that they're associated with don't seem to be in the database yet.
Quests & Exploration - Special Activities
You can create the X-995 Mechanocat through activities related to the tinkering robot, Pascal-K1N6, on Mechagon, and its different colours are unlocked by finding paints on various NPCs around the zone. The Crimson Tidestallion may be purchased on special days through a complex series of trade interactions with murloc vendors at your base in Nazjatar.
Murloc vendor bartering in Nazjatar
Junkyard Tinkering in Mechagon
Professions / Crafted - Engineering & Blacksmithing
Unavailable New Looks
Unavailable New Looks
These looks were added to the database in Patch 8.2, but aren't yet available as mounts. Perhaps they'll appear at a later date.