Latest News
The Eternal Palace; Operation: Mechagon; BfA Season 3
Four new mounts were introduced this week, with the synchronous opening of the
Eternal Palace
raid,
Operation: Mechagon
dungeon, and
BfA PvP Season 3
. The bright yellow
Azshari Bloatray
is the reward for completing the meta-achievement for the
Eternal Palace
. The two mechanical mounts are boss drops in
Operation: Mechagon
- the flying
Aerial Unit R-21/X
from King Mechagon, and the
Mechagon Peacekeeper
spider tank from the HK-8 Aerial Oppression Unit (the latter possibly in Mythic mode only). Finally, the new Gladiator's mount for
BfA Season 3
isn't in the database yet, but we believe it will be the handsome indigo
Notorious Gladiator's Proto-Drake
. Hopefully we'll know for sure soon.
---
Purchase a Recurring 6-Month Subscription and Get a New Mount!

The beautiful
Sylverian Dreamer
is currently gifted to anyone who purchases, or already has, a 6-month recurring subscription to World of Warcraft. It's also available separately in the Blizzard Shop. See Blizzard's
announcement
for more information.
---
Patch 8.2: Rise of Azshara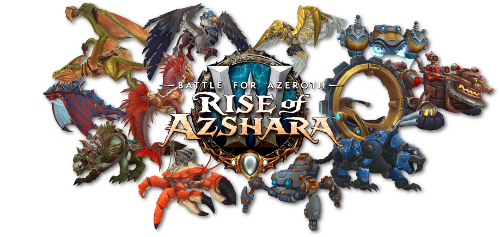 Patch 8.2: Rise of Azshara is now live!
This new patch brings ~ 29 new mounts, many with aquatic or mechanical themes befitting the new zones. It also introduces flying in BfA zones - for those who complete Battle for Azeroth Pathfinder, Part Two, and introduces a new mount equipment feature, allowing you to choose an enhancement for your mounts, such as water walking, daze-prevention or increased speed. See our
patch guide
for more details.
---
Warcraft III: Reforged Spoils of War Edition Mount
Pre-purchase the special
Spoils of War Edition
of the upcoming remastered title,
Warcraft III:Reforged
and receive an exclusive mount in World of Warcraft: the
Meat Wagon
.
New Mounts
(Patch 8.2)
Upcoming Mounts
(later patches, or uncertain release date)