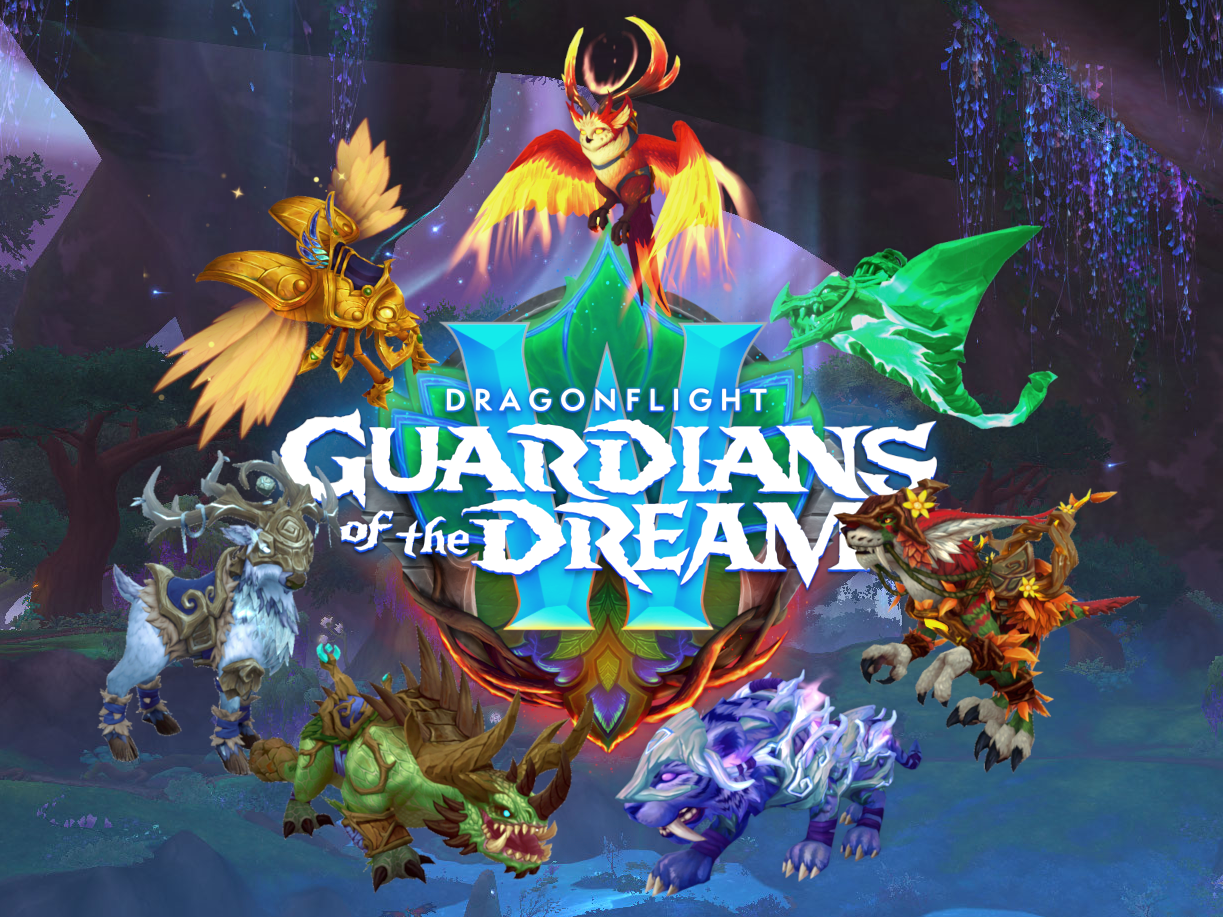 Patch 10.2: Guardians of the Dream

new mounts listed by source
Special Activities
Elianna in the Central Encampment sells six transparent, green 'Emerald' mounts. Obtaining these is a little complicated since you first need to perform various activities around the Dream to accumulate Dream Energy and use this to obtain Dream Infusions (this requires renown 5 with Dream Wardens). You must already own a mount with the same model as the green one you're purchasing, just in a different colour.
Mount Quest Chains
The Ochre Dreamtalon is the reward for a staggered quest chain (requires different activities on separate days, with delays in between). It begins with the Smoldering Sprout at approximately 48.7, 67.9 in the Emerald Dream.
Zone & Event Quest Chains
The Flourishing Whimsydrake, a Dragonriding mount styled like a Faerie Dragon, will be awarded to you soon after you first enter the Dream and complete the introductory quest.
Trading Post
These mounts will be obtainable from the Trading Post in upcoming months. Unfortunately, we can't say exactly when, since Blizzard doesn't announce Trading Post offerings ahead of time, but the Crimson Glimmerfur is hihgly likely to appear in December.
Raid Boss Drops
This elegant, fiery somnowl drops from Fyrakk in the Amirdrassil, the Dream's Hope raid, on Mythic difficulty only.
Zone Loot Chests
The blue dreamsaber has a low chance of being looted from Dreamseed Caches that can be found around the Emerald Dream.
Non-Player Factions
Mounts that can be purchased at renown rank 17 with the new Dream Wardens faction.
Raid Meta-Achievements
The shadowy purple dreamsaber is the meta-achievement reward for the raid, Amirdrassil, the Dream's Hope.
Dungeon Keystone & Challenge Modes
Armoredons have been the Keystone Master reward for every season of Dragonflight, and this Verdant addition is especially fitting!
Arena
Slitherdrakes remain the Arena / Gladiator mount theme for Dragonflight Season 3, with this gorgeous emerald addition. Recipients also receive a glyph so they can add its appearance to the customization options for their Winding Slitherdrake mount.
Vicious Mounts - Rated PvP
These umbrahides/moonbeasts are the faction rewards for rated PvP matches in Dragonflight Season 3. Obtaining one will also teach you the mount for the other faction.
Anniversary
Collector's Editions
Source Currently Unknown
Mounts coming in Patch 10.2 but we don't yet know their source.
Release Uncertain or Coming In A Later Patch
These are mounts added to the Patch 10.2 database that don't seem to have been added to the game yet - at least not that we're aware of. We don't usually have release date on these.
New mount looks that have not yet been implemented
Dreamstags - Unused Looks
Matching Companion Pets
Matching companions for new mounts